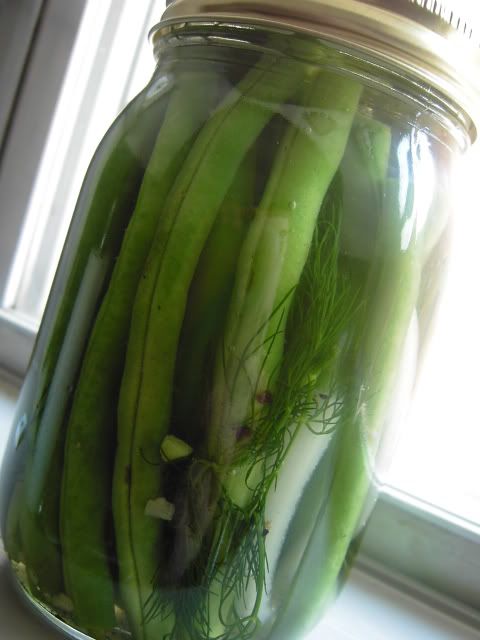 I promised Molly over at
Orangette
that I would make these weeks ago. Many, many people turn their noses up at the thought of pickled green beans, but I think they're wonderful - fresh, crunchy, summery, vinegar-y, and the perfect garnish for a homemade
bloody mary
.
First of all, you have to have the old fashioned Mason jars. They just don't look right in anything else. I used a big one today because that's all I had unused, but I prefer the smaller size so you can stand the beans upright before they start curling. Regardless, you have to trim your beans so they fit exactly in the jar, just to the bottom of the threaded part. I know some people prefer to flash boil the beans first, but I like mine super-crunchy, so I start with them raw. Pack trimmed beans in the jar tightly with a few crescents of white onion, 10-12 fresh dill sprigs, a couple of garlic cloves (either sliced or minced, depending on your visual preference,) and some very coarsely ground black pepper.
On the stove, heat regular white vinegar (about 5-6% acidity) to a rolling boil. Pour boiling vinegar over beans to top and cap immediately. You'll have to use a towel or oven mitt to tighten the lid, but the heat should seal the ring. It will pop back open when you re-open the jar for the first time.
Let cool on the counter, then transfer to refrigerator for a couple of days for maximum flavor. Serve on their own or as a garnish. Enjoy!!